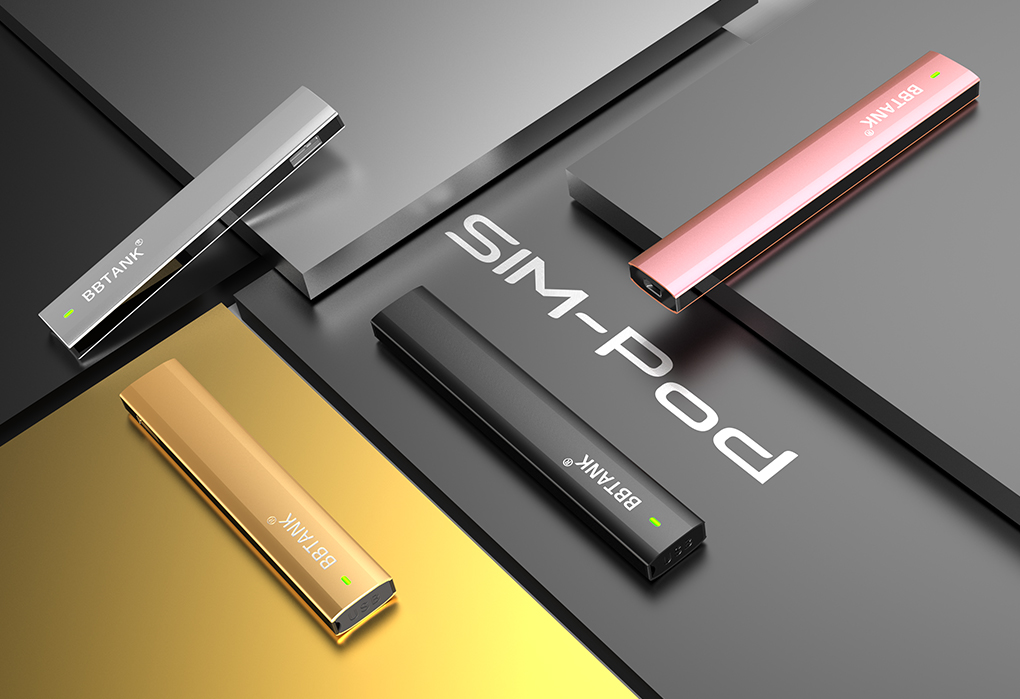 BBTANK Sim Pod has been taking popular culture as phenomenon
Tactile, classic, with a decent finish, everything about the design of BBTANK Sim pod is awesome. It fits nicely on your hand and it's
just amazing that such a small device can deliver so much power. The tactile, decent finish also makes it look like a premium device
among disposables on the market . BBTANK Sim pod gradually becomes many brands' choice.
How Does
Sim Pod
Work?
The pod consists of a power source and coils that vaporize oil from the tank. It's important to know that the tanks were produced
using food-grade level materials, that means you don't need to worry about you may inhale any hazardous substance from the
device itself. Every time you draw on your pod, the 4th bbgear ceramic coil provide high vaporizing efficiency, even heating distribution,
steady and consistent vapor.
WHAT MAKES SIM POD AN EXCELLENT CHOICE FOR BRANDS
ULRRA SLIM and very easy to use
BBBTANK created sim pod as slim and lightweight as it can get, so you can carry it around easily. It is just 16.5g, compared something
heavy sitting in our pocket all day, it is so light that you'll forget what you are carrying on hands.
4th BBGEAR Generation Ceramic Coil
4th BBGEAR provides faster heating, bigger vapor and purer taste,suitable for CBD/THC whatever thick or thin.

The 4th BBGEAR Generation Ceramic Coil can handle extremely high temperatures which give more vapor and a pure taste, unlike other
heating element which may spoil your hit due to burning.

If you are using flavored oil, you can really taste pure flavors in this pod from the first hit to the last drop. There is not harsh at all nor
giving a bad aftertaste.

It helps brands' deliver amazing taste efficiently due to the unique ceramic formula.

Once you tried it, the very smooth and tasteful hits will be unforgettable, you will never go to others.
LEAKPROOF
Who wants to deal with annoying oils leaks while they're trying to enjoy a pleasurable vaping experience? Well, one major advantage of
Sim pod is that it prevent most of leakage form happening, that can save the loss of your oil.
Heavy metal tested
Nowadays, more and more people concern about the health issues when they are vaping, and there are some reports about many devices
on the black market and the product list of licensed brands failed the heavy metal test. Due to the fact that Sim pod was produced by
food-graded level materials, you can say goodbye to that health problem forever simply by switching to Sim pod setup.
Various kind of custom options
Sim pod just like a piece of white paper, on which you may put logo and change colors, helping promoting your company's culture
Micro USB Charger & Side windows
Micro Usb Charger will be as a plan B when brands using extremely thick oil and large volume, when the battery dies out, just grab a usb
charger and and make sure it full battery charged. And side windows can help you check the volume of the oil whenever you want.
Sim pod are quickly taking over the vaping community, and it's easy to see why. They have a lot to offer to cannabis oil vapers of all levels
of experience, being convenient in a multitude of ways while offering everything one needs to feel incredibly satisfied.