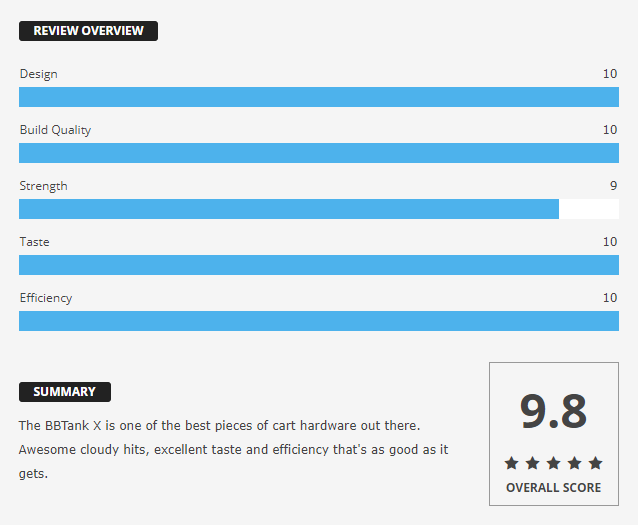 BBTANK products are made by Babytontech. Here we review the BBTANK X, their latest
cartridge made for THC and CBD oils. This piece of hardware is impressive on many points
and we've added it to our best list of vape hardware for THC oils.
Pros:
Thick quartz glass
Huge clouds
Smooth hits
Easy to fill
Cons:
Won't fit some types of batteries
Recommendations: A slim version for certain batteries would be nice, but might not be
possible due to the way the center tube is constructed.
BBTANK X carts are some of the best vape
hardware we have tried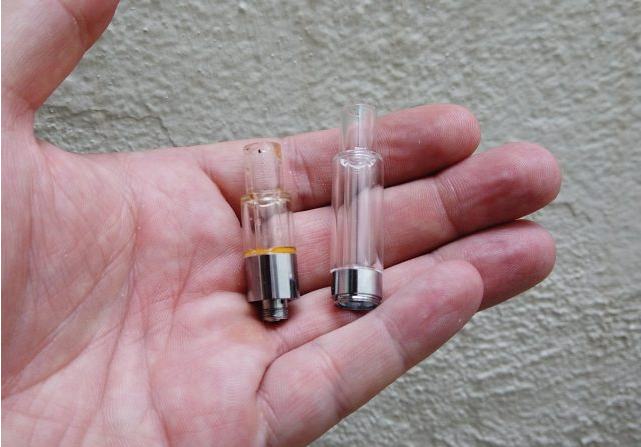 Left is half gram, right is the full gram cartridge body. They both use the same base.


The previous version of the BBTANK X currently used by Left Coast Extracts is already
impressive, so we knew testing this out it, it should be good. The size of the clouds this
hardware produces are amazing and we have yet to see anything else produce the
same level of clouds with such a smooth hit.
Unique design makes for easy fill
BBTANK X carts open from the bottom, making for a very easy filling process. Previously I
tested another bottom fill cart that had oil go through the threading area, resulting in oil
loss. The BBTANK X does not have this problem.
You can easily fill it upside down without leaking then flip it back upright and let the oil
settle before vaping. This is a huge improvement over other designs that fill this way.
Quartz glass used is very thick, high build quality
The entire BBTANK X body is glass, so don't drop it! That being said, You can see from the
inside of the mouthpiece the glass is very thick and it can handle some minor drops.
The atomizer uses a well-made ceramic core and so far the BBTANK X doesn't leak at all
which is amazing based on the way it looks. You would think to look at it that if you had it
upside down it would leak, but it does not.
Hits are big but very smooth, large clouds are produced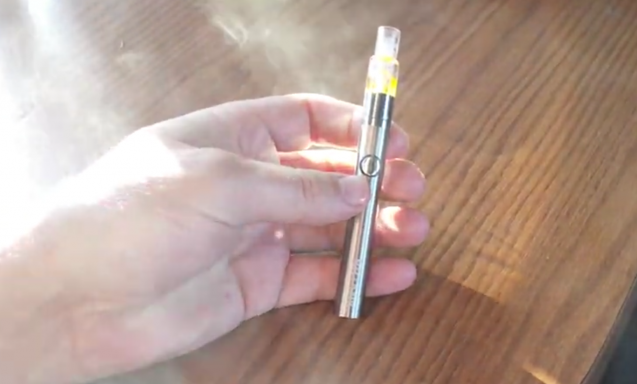 Still got a massive cloud hazing around after hitting it.


This thing hits amazing. One of the best hitting pieces of vape hardware for THC oils we
have tried to date. You get large clouds without any harshness. I am really impressed with
how much vapor this thing produces.
Taste delivery is excellent on the BBTANK X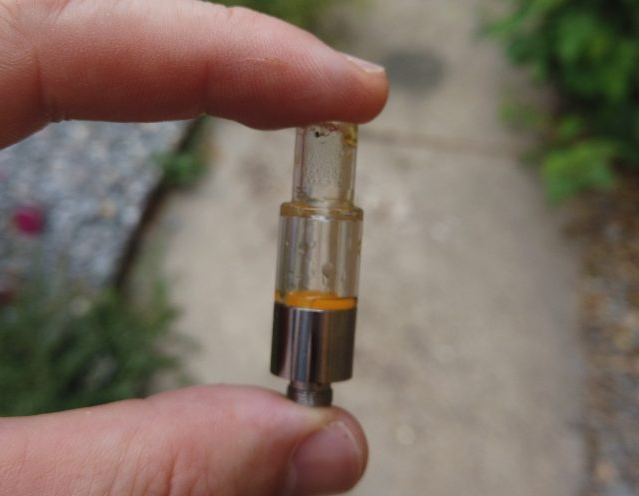 Still got a little oil left. The BBTANK X is ultra-efficient.


You get no metallic taste or any other odd aftertaste on the BBTANK X. It's as perfect as it
can get for a vape hit. The taste will be as good as the oil you put in it. The way oil is used
in this device is extremely efficient.
If we got this right, it appears that oil slides in a downward direction towards the heating
element rather than being sucked in from the side holes. This adds a bit of efficiency over
many of the standard vape cart designs that are out there.
When you look at the BBTANK X from the outside it is hard to see where the oil is going,
but it's one of the more efficient cart systems we have yet to use.

Engraving on the bottom of the cart.


Airflow is on point
The airflow on the BBTANK X is excellent. It's one of the best airflows I've seen on a vape
cartridge. It also seems to work fine on different batteries, when it does fit.
The only downsides to the BBTANK X are durability and fitting some batteries.
If you drop this thing, it might break. That being said it is very thick glass. The glass on
this is thicker than any of the cartridge hardware pieces I have used, except for Left Coast
Extracts cart, which is also made by BBTank.
Some types of batteries are just not going to work with the BBTANK X. Examples are
batteries like the CCELL Palm, CCELL Silo, and Magic 710. These batteries have an enclosed
area that is just too small for the BBTANK X to fit in.
Skipping value since we do not know yet
Typically at DabConnection we add a value score to our reviews. Since the BBTANK X is more
likely to be sold directly to THC oil extractors, we skipped the value score. We are hoping
to see it soon for sale at Vape Parts Mart and will update the post if it does become
available for individuals to buy.
Concluding our BBTANK X review :
It's one of the best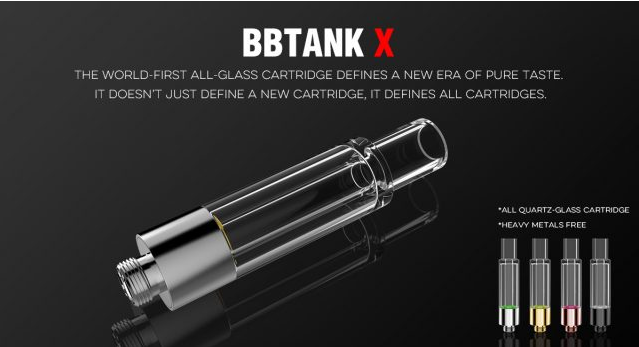 Here's a nice looking digital render of the BBTANK X
The BBTANK X is one of the best pieces of vape hardware out there right now for THC oils.
It produces massive, smooth clouds that deliver strength without making it harsh. You can
see exactly how much oil you got and the efficiency might even be unmatched.
We're not sure yet if the BBTANK X will be available for retail sale yet, but if you are an oil
maker looking for an awesome, unique piece of hardware to pair with your THC oil, this is the one.
Have you tried anything similar or the BBTANK X itself? Question or comments? Post below or
in our forum!